TerraCycle
[@access_control@]
[@article_id@]
[@blog_author@]
[@blog_content@]
[@blog_id@]
[@blog_subheader@]
[@blog_subject@]
[@category_id@]
[@category_name@]
[@category_ref@]
[@category_subheader@]
[@ccat_id@]
[@compat_id@]
[@compat_list_id@]
[@compatcat_description@]
[@compatcat_description2@]
[@compatcat_fullname@]
[@compatcat_name@]
[@compatcat_ref@]
[@content@]
[@content_allow_reviews@]
[@content_author@]
[@content_compatibility_code@]
[@content_description1@]
[@content_description2@]
[@content_description3@]
[@content_external_ref1@]
[@content_external_ref2@]
[@content_external_ref3@]
[@content_external_src@]
[@content_fullpath@]
[@content_id@]
[@content_label1@]
[@content_label2@]
[@content_label3@]
[@content_level@]
[@content_module@]
[@content_name@]
[@content_ref@]
[@content_short_description1@]
[@content_short_description2@]
[@content_short_description3@]
[@content_type_code@]
[@content_type_id@]
[@content_type_name@]
[@content_wufoo_form@]
[@date_posted@]
[@date_updated@]
[@description@]
[@description2@]
[@external_ref@]
[@gp_restriction@]
[@id@]
[@name@]
[@page_content@]
[@page_editor@]
[@page_header@]
[@page_id@]
[@page_index@]
[@page_subheader@]
[@parent_ccat_id@]
[@parent_content_id@]
[@parent_id@]
[@rating@]
[@reviews@]
[@short_description@]
[@sortorder@]
[@subtitle@]
[@templatebody@]
[@templatefoot@]
[@templatehead@]
[@templatesearch@]
[@thumb@](CODE)
[@thumb_alt@](CODE)
[@thumb_alt1@](CODE)
[@thumb_content_type_id@]
[@timestamp@]
[@title@]
[@url@]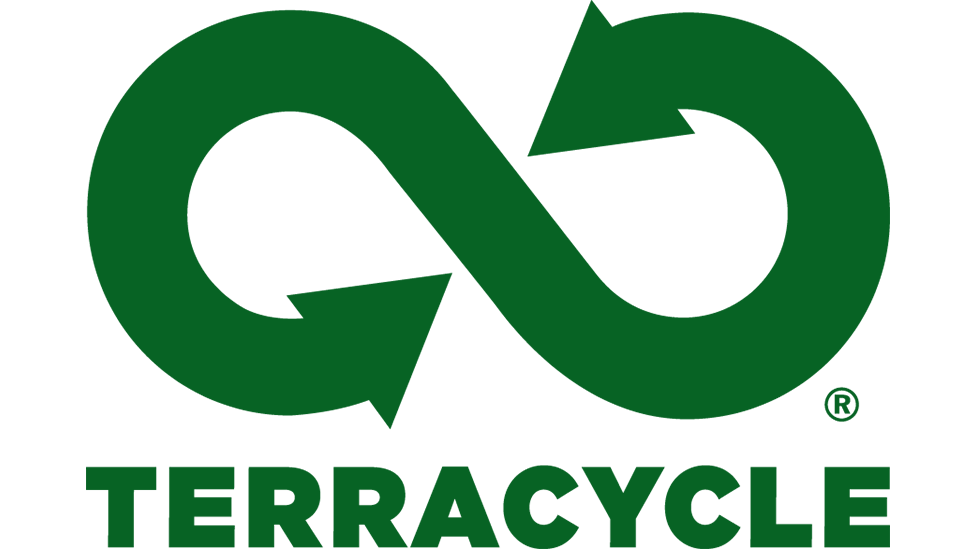 Wholesome Hub and our brands First Ray and Refillr, have teamed up with TerraCycle® to provide a second life for some of your used products.
Based on the current programs now running you can recycle your oral care products and packaging such as used toothbrushes, toothpaste tubes and dental floss containers and your dish liquid packaging and air fresheners through TerraCycle's FREE Oral Care and Dish and Air Care Recycling Programs.
Unfortunately, the Beauty Products and Mailing Satchel Recycling Programs which we were a part of, have now been closed by TerraCycle. Hopefully we'll see another program start up soon.
For the products and programs still open you can recycle these easily and completely free.
All you need to do is collect your used toothbrushes, toothpaste tubes, dish liquid packaging and air fresheners and come by our office and warehouse and drop them into the allocated box.
Here are our details:
Place: 65 Sparks Ave, Fairfield, Victoria 3078
Days: Monday to Friday (excluding Public Holidays)
Time: 08.30am - 4.30pm
We'll do the rest and ship them back to TerraCycle who will ensure these products and packaging get recycled the way they should.
Here's what we can accept under each Recyling Program:
Oral Care Recyling Program:
1. Toothpaste tubes and caps
2. Toothbrushes
3. Toothbrush and toothpaste outer packaging
4. Dental floss containers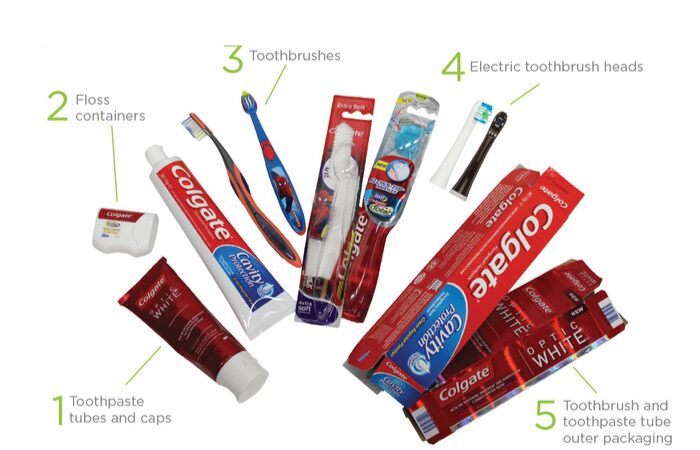 (Image source: Terracycle)
Gillette Razor Recycling Program:
1. All brands of blades and razors (refillable and disposable products, and replaceable-blade cartridge units)
2. Rigid plastic packaging
3. Flexible plastic bag packaging.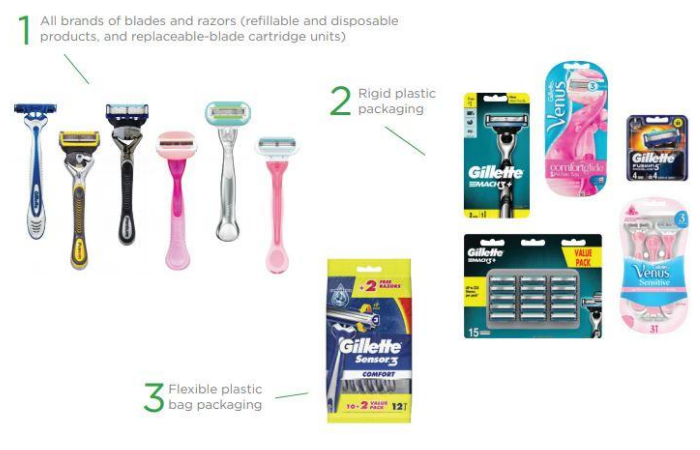 Dish & Air Care Recycling Program:
1. Dishwashing liquid bottles (including caps)
2. Dishwashing tablets flexible packaging (including snap locks and zip locks)
3. Plastic spray bottles (including spray and trigger heads)
4. Air freshener aerosol cans and spray bottles (including spray and trigger heads)
5. Plug-in air freshener and refills (including plastic outer packaging)
6. Clip-on car fresheners and refills (including plastic outer packaging)
Recycling best practices:
1. Packaging does not need to be washed, however it should be as empty as possible, i.e. excess product removed.
2. Please remove any cardboard components from outer packaging before sending to TerraCycle.
L'OR, Moccona & Lavazza Capsules Recycling Program:
1. All L'OR coffee capsules (aluminium only)
2. All Moccona coffee capsules (aluminium only)
3. All Lavazza coffee capsules (aluminium only)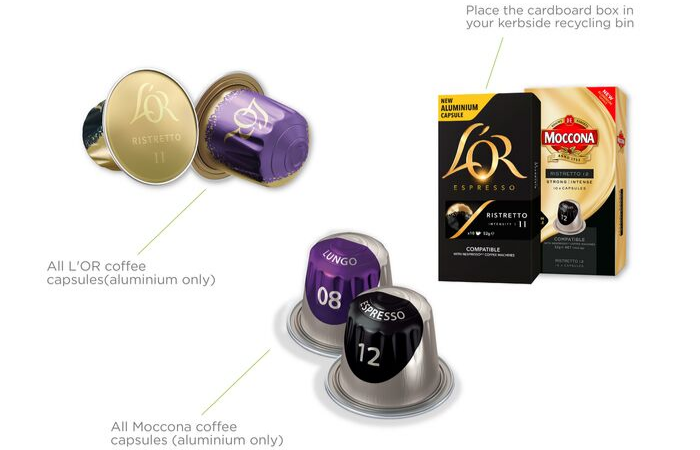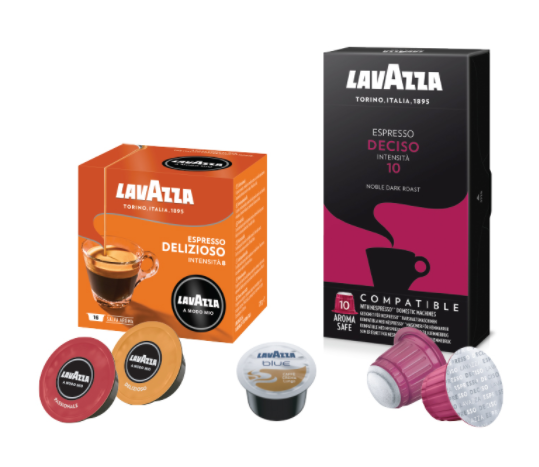 (Image source: Terracycle)

In order to recycle your coffee capsules, make sure they are sealed in a plastic bag or dry before placing them in the collection box. If you do decide to rinse your capsules, please make sure they are completely dry before dropping off.
NESCAFÉ® Dolce Gusto® Capsule Recycling Program :
You can now also recycle all your NESCAFÉ® Dolce Gusto coffee capsules through Terracycle and at Wholesome Hub.
Here's a little video with more information on this program:

Writing Instruments Recycling Program:
Ever wondered what to do with your pens once they've run out or have broken? The outside is plastic so what now? Do we recyle them, do we trash them, how long will they sit in lanfill or end up in our oceans?
The good news is, as part of the Terracycle program, you can now recycle all your writing instruments, regardless of what the brand. There is a list below of what you can recycle through this program and here's a short video that explains the complete recycling process from collection to final transformation:


1. All writing instruments - except for wooden pencils, crayons and chalk
2. Any brand of pen, felt tip, highlighter, marker, correction fluid pot (must be empty), correction tape, mechanical pencil and eraser pen
Unfortunately the program does not accept glue sticks, erasers, rulers or other cutting objects as they can disturb the recycling process so we would really appreciate if you could be careful to not include these items.
Recycling Best Practices:
You don't need to wash your packaging, however all excess product should be removed. We unfortunately can't accept the cardboard packaging as part of this program as this is typically accepted in your council recyling bin.
To learn more about what you can and can't recycle at home and as part of your kerbside recycling program, you can read our blog all about recycling at home.
Being part of TerraCycle's work and recycling programs are really important to us as this forms part of our commitment to be a voice for our planet, to stop plastic waste ending up in our landfill and oceans and to helping you and our community live lighter on our planet.
We hope to bring you more recycling programs as they become available through TerraCycle so stay tuned.
Thank you for all you do and for helping to create change.