Awards
[@access_control@]
[@article_id@]
[@blog_author@]
[@blog_content@]
[@blog_id@]
[@blog_subheader@]
[@blog_subject@]
[@category_id@]
[@category_name@]
[@category_ref@]
[@category_subheader@]
[@ccat_id@]
[@compat_id@]
[@compat_list_id@]
[@compatcat_description@]
[@compatcat_description2@]
[@compatcat_fullname@]
[@compatcat_name@]
[@compatcat_ref@]
[@content@]
[@content_allow_reviews@]
[@content_author@]
[@content_compatibility_code@]
[@content_description1@]
[@content_description2@]
[@content_description3@]
[@content_external_ref1@]
[@content_external_ref2@]
[@content_external_ref3@]
[@content_external_src@]
[@content_fullpath@]
[@content_id@]
[@content_label1@]
[@content_label2@]
[@content_label3@]
[@content_level@]
[@content_module@]
[@content_name@]
[@content_ref@]
[@content_short_description1@]
[@content_short_description2@]
[@content_short_description3@]
[@content_type_code@]
[@content_type_id@]
[@content_type_name@]
[@content_wufoo_form@]
[@date_posted@]
[@date_updated@]
[@description@]
[@description2@]
[@external_ref@]
[@gp_restriction@]
[@id@]
[@name@]
[@page_content@]
[@page_editor@]
[@page_header@]
[@page_id@]
[@page_index@]
[@page_subheader@]
[@parent_ccat_id@]
[@parent_content_id@]
[@parent_id@]
[@rating@]
[@reviews@]
[@short_description@]
[@sortorder@]
[@subtitle@]
[@templatebody@]
[@templatefoot@]
[@templatehead@]
[@templatesearch@]
[@thumb@](CODE)
[@thumb_alt@](CODE)
[@thumb_alt1@](CODE)
[@thumb_content_type_id@]
[@timestamp@]
[@title@]
[@url@]



Winning awards is fabulous, and we feel so totally grateful, however we wouldn't be award winners without you, our beautiful customers, so we thank each and every one of you from the very bottom of our hearts.
AusMumpreneur of the Year - Sustainability
The St George Banking Group AusMumpreneur Awards celebrated their 10th Anniversary this year. Created as a platform to to support Australian entrepreneurs, both AusMumpreneur and these awards are all about recognising the growing number of mums who are achieving outstanding business success while balancing motherhood.
It is with such an honour we were awarded Gold at the 10th AusMumpreneur Awards in the category of Sustainability. A category extremely dear to our hearts, this award recognises businesses' commitment to sustainable and eco-friendly business practices.
Being a Mum and having a business that I am truly passionate about is an amazing gift, and whilst it does mean that often things aren't done at rocket speed, that life is one big juggling act and super messy, I do have the ability to fulfil my role as a mother, to play a large and active part in my children's day to day lives whilst still being able to contribute to our community in a positive way and achieve my professional goals without having to sacrifice one for the other.
Being a mumpreneur also gives me the amazing opportunity to be a positive role model and inspiration for my little girl and boy as they see me as an example of someone that is passionate, committed and happiest looking after the people and things that matter to me the most; our family, our health and our planet.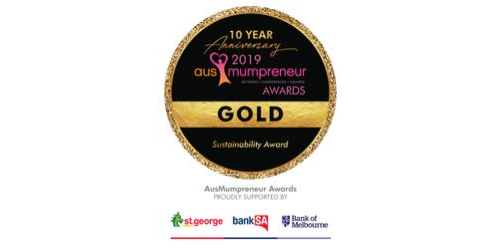 Top 50 Leaders in Small Business 2019
Starting and running your own business takes you on a journey that includes many highs and lows, but being passionate about something, having a dream, and seeing your ideas and dream come to life is an amazing achievement and gift.
Being named as one of Australia's Top 50 Small Business Leaders 2019 is such a great honour. These awards celebrate the achievements of small business owners across the country and the challenges they have to overcome to achieve amazing feats.
From manufacturers to dieticians to software developers, the chosen top 50 are an extremely diverse and talented bunch so we're super proud to be part of this amazing group of talented and passionate leaders and part of the ways we're each contributing to our community in our own unique way.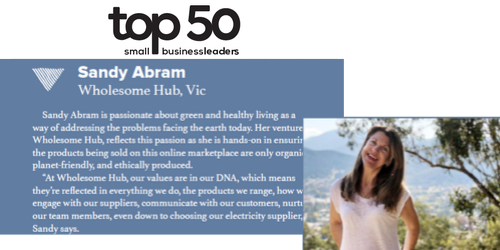 Top 50 People in E-commerce 2019
We're so unbelievably proud to make it onto the Internet Retailing Top 50 People in E-Commerce list again this year. This list recognises the biggest and brightest talents in Australia's budding e-commerce industry.
After making the list last year, we feel so incredibly fortunate to be recognised again. And we couldn't do it without such a supportive and brilliant team behind us, or without all the fabulous eco-conscious customers that use Wholesome Hub.
Having an online business allows us to connect with our community and bring organic health foods, environmentally friendly household and beauty products and plastic free alternatives to our customers all over Australia. We love and thank every single one of you!
Thanks to Internet Retailing for celebrating Australian online retail and for helping us to highlight the benefits of sustainable and responsible shopping.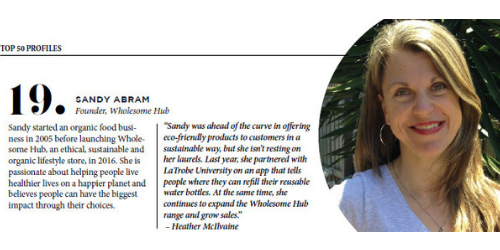 Remodista Women2Watch Honoree 2019
I'm excited to be honored as one of Remodista's 2019 #Women2Watch in Business Disruption —a community of women leaders and innovators from around the globe!
Now in its fourth year, Remodista continues to support women in business, shining a spotlight on the women solving complex business challenges and those finding innovative and creative solutions in all areas of global business. This amazing program, founded and run by Kelly Strickel, also provides a connection with like-minded women around the globe, offers many opportunities for further learning and engagement and is definitely a platform for future growth. #W2W19 #BuilderAndDreamers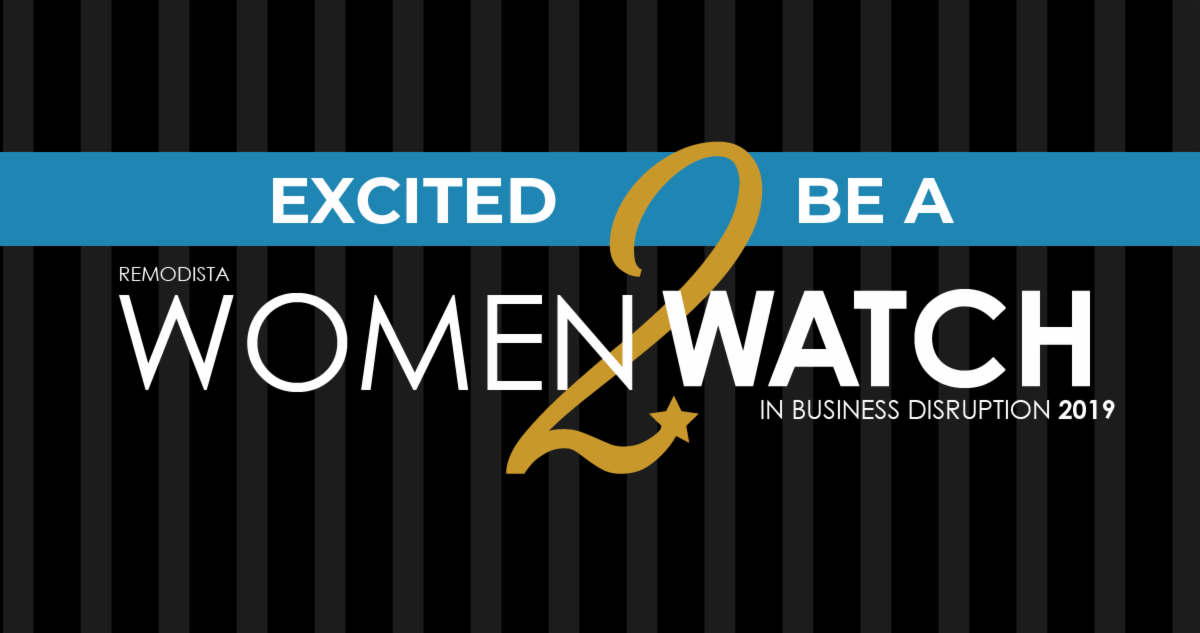 2018 ARA Australian Retail Awards
Helping people live a healthier life on a happier and more sustainable planet are at the heart of what we do at Wholesome Hub, so we're dancing our organic socks off to have been announced as a Top Three Finalist in the 2018 ARA Australian Retail Awards in the category of 2018 Online Retailer of the Year.
These prestigious awards run by the Australian Retailers Association, are the largest and longest running of their type in Australia. They recognise and reward businesses with robust sustainable working practices and who support staff to develop and flourish.
To become finalists in this online retail award programme is amazing and speaks volumes about who we are, what we do and the difference we're trying to make. Each recognition like this also drives us further to do even more and provide you, our beautiful customers with more organic, cruelty free, GMO and palm oil free, zero waste and locally sourced products for everyone to enjoy. Together, we can make the world a better place!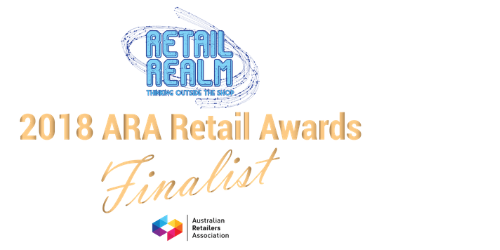 Remodista Women2Watch Honoree 2018
Having been recognised as one of the 80 Remodista Women2Watch 2018 honourees makes us so unbelievably proud. All these 80 women have been picked for their roles in either solving difficult business challenges or building innovative new business models for retail or finance so being in the company of such amazing and awesome women is a fabulous privelege.
Remodista was started by founder and CEO, Kelly Strickel in 2010. Kelly's leadership, enthusiasm and knowledge is inspiring as she builds a platform that helps women in business grow.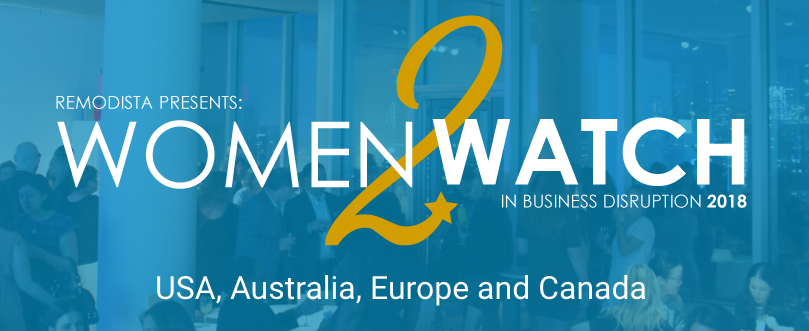 Top 50 People in E-commerce 2018
To make the amazing list of Top 50 People in E-commerce by Internet Retailing is pretty special! Appearing alongside other socially responsible and ethical companies, not to mention amazing trailbrazers, makes this award such a privelege.
The more we can do to raise the profile of companies with sustainability and responsibility at their core, and to raise the profile of businesses doing great things in E-commerce the better, so thanks to Internet Retailing for celebrating the E-commerce platform in Australia.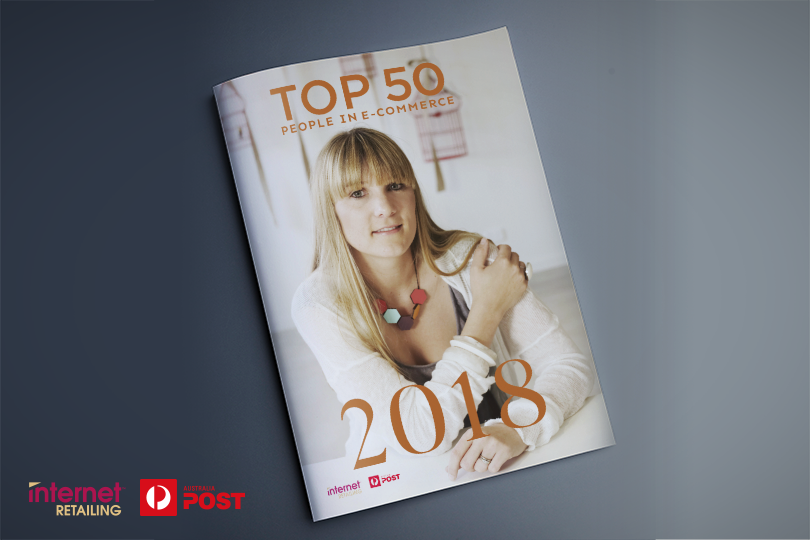 The extremely talented Jane Cay, founder of Birdsnest, featured in the # 1 spot. You can read her amazing story and find out why this was so very well deserved.
ORIAs ~ Online Retailer Industry Awards
In 2017 we were finalists at the ORIA Online Retailer Awards in the Best New Online Retailer category. The Australia Post Online Retail Industry Awards celebrate the most vibrant and innovative businesses in Australasia and we were so excited to attend the awards night and mingle with other brilliant businesses to celebrate our successes.