Looking After Your Mouth Free From Plastic and Palm Oil!
Author: Sandy Abram Date Posted:23 August 2019
[@access_control@]
[@article_id@]
[@blog_author@]
[@blog_content@]
[@blog_id@]
[@blog_subheader@]
[@blog_subject@]
[@category_id@]
[@category_name@]
[@category_ref@]
[@category_subheader@]
[@ccat_id@]
[@compat_id@]
[@compat_list_id@]
[@compatcat_description@]
[@compatcat_description2@]
[@compatcat_fullname@]
[@compatcat_name@]
[@compatcat_ref@]
[@content@]
[@content_allow_reviews@]
[@content_author@]
[@content_compatibility_code@]
[@content_description1@]
[@content_description2@]
[@content_description3@]
[@content_external_ref1@]
[@content_external_ref2@]
[@content_external_ref3@]
[@content_external_src@]
[@content_fullpath@]
[@content_id@]
[@content_label1@]
[@content_label2@]
[@content_label3@]
[@content_level@]
[@content_module@]
[@content_name@]
[@content_ref@]
[@content_short_description1@]
[@content_short_description2@]
[@content_short_description3@]
[@content_type_code@]
[@content_type_id@]
[@content_type_name@]
[@content_wufoo_form@]
[@date_posted@]
[@date_updated@]
[@description@]
[@description2@]
[@external_ref@]
[@gp_restriction@]
[@id@]
[@name@]
[@page_content@]
[@page_editor@]
[@page_header@]
[@page_id@]
[@page_index@]
[@page_subheader@]
[@parent_ccat_id@]
[@parent_content_id@]
[@parent_id@]
[@rating@](CODE)
[@rating_decimal@](CODE)
[@rating_round_half@](CODE)
[@reviews@](CODE)
[@short_description@]
[@sortorder@]
[@subtitle@]
[@templatebody@]
[@templatefoot@]
[@templatehead@]
[@templatesearch@]
[@thumb@](CODE)
[@thumb_alt@](CODE)
[@thumb_alt1@](CODE)
[@thumb_content_type_id@]
[@timestamp@]
[@title@]
[@url@]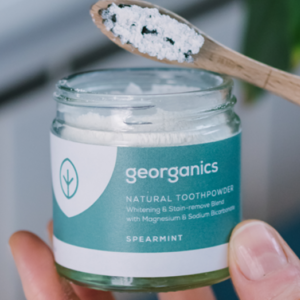 Brushing our teeth and looking after the health of our mouth and gums is so often a plastic and palm oil fuelled affair. But it doesn't have to be. Find out how we're championing natural toothpastes, dental floss and mouthwash without a scrap of... Brushing our teeth and looking after the health of our mouth and gums is so often a plastic and palm oil fuelled affair. But it doesn't have to be. Find out how we're championing natural toothpastes, dental floss and mouthwash without a scrap of...
Brushing our teeth and looking after the health of our mouth and gums is so often a plastic and palm oil fuelled affair. But it doesn't have to be. Find out how we're championing natural toothpastes, dental floss and mouthwash without a scrap of plastic or a drop of palm oil in sight.
One glance around any bathroom highlights the sheer volume of plastic that invades our life. It seems as if there's nothing that doesn't come in plastic when it comes to our personal hygiene.
Soap, shampoo, conditioner, shower gel, period products, cleansers, moisturisers, toothbrushes, toothpaste. They're all either contained within plastic, contain plastic or both.
But here at Wholesome Hub we have plastic free alternatives for all of them, and today we're highlighting our range of plastic free oral care products from Georganics.
Georganics Oral Care to the Rescue!
Georganics produce a range of toothpastes, dental floss, tooth powders, oil pulling mouthwashes, tooth soaps and chewable mouthwashes.
They're all entirely free from plastic. And what's more, they're all 100% palm oil free too.
Using tooth powders, soaps or glass jars of toothpaste might be a little different to using regular tubes of toothpaste, but it really doesn't take long to get used to the change. Before long, it'll be second nature.
Georganics toothpastes are mineral rich, helping to remineralise the teeth, and contain only natural ingredients. They feel just like regular toothpaste in the mouth, the only difference is, you apply them to your toothbrush using a spatula rather than squeezing.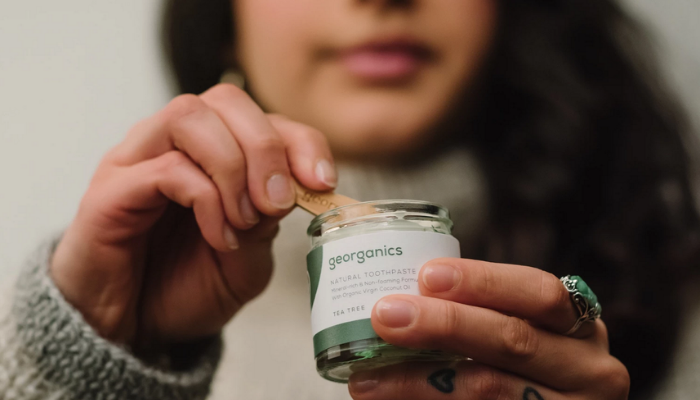 Toothpowders and soaps feel different still, but again a small and simple adjustment to your oral care routine is all it takes to get used to them. They're all either in kraft paper tubes or glass jars, that are infinitely recyclable, with aluminium lids. Plus, you can use the empty little glass jars for lots of other uses around the home like filling with delicious herbs and spices which you buy in bulk, storing bits and pieces, freezing your ginger or chilli so you always have some on hand.
Introducing Georganics Toothtablets!
As if Georganics toothpaste and toothpowders weren't enough, the awesome brand have just launched a new range of toothtablets, leading the way in planet friendly oral care in Australia.
We're so excited to have them here at Wholesome Hub because we also believe that they're going to transform the way we all brush our teeth.
Toothtablets are designed for simplicity. Pop one toothtablet into your mouth and chew. Within a few seconds, you'll have a satisfyingly foamy toothpaste in your mouth. Then use your toothbrush to brush as normal before rinsing. No nasties in your mouth, or down the drain.
They're available in a natural tea tree flavour, or if you like a minty freshness, choose either the spearmint or English peppermint flavours. If mint isn't your thing, try the naturally fruity orange flavour or try the activated charcoal version for extra cleaning and whitening.
Like all Georganics products, they're free from chemical foaming agents such as SLS. They're also completely free from palm oil, fluoride and glycerin and are suitable for vegans.
Instead of nasty synthetic ingredients, they contain natural ingredients such as cream of tartar, sodium bicarbonate and certified organic essential oils.
They too come in infinitely recyclable glass jars that not only look great in your bathroom, they're infinitely better for the environment than yukky, polluting plastic.
Regular toothpaste tubes may look and feel like they're made with a squeezable metal. But in reality, this metal is coated with layers of plastic.
This mixed material is therefore almost impossible to recycle, meaning that millions of discarded toothpaste tubes end up in landfill around the world each year.
Brushing your teeth really can be a clean affair, with clean, natural ingredients. You can be a twice a day planet saving superhero simply by brushing your teeth!
Plastic Free Dental Floss
Every time I think about dental floss, it's hard not to think about that famous scene in Pretty Woman where Julia Roberts is suspected of undertaking in some form of illegal activity, only to be found holding onto her precious dental floss. What's wrong with flossing? And why the embarrassment?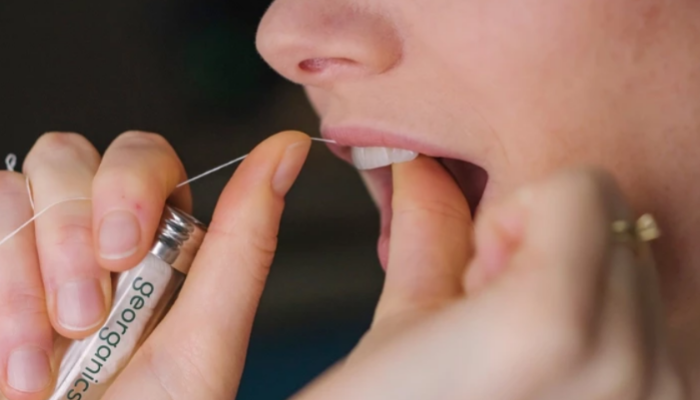 Well I'm here to tell you people, there is nothing to be ashamed about when it comes to your dental hygiene and flossing so I say floss till your heart's content and floss plastic free.
Georganics Natural Floss is 100% plastic free. It is made from PETA certified Ahimsa Silk, coated with Candelilla wax and flavoured with fresh organic Spearmint oil. Plus you won't find a plastic container in sight as the floss comes in a cute little reusable glass flint and a metal cap dispenser. These dispensers can be used again and again with the Georganics Floss Refills. Both come packed in a fully compostable, plastic-free kraft box.
From Plastic Free July to Beyond!
We know Plastic Free July is a perfect time for giving your oral care a plastic free and palm oil free makeover (or for stocking up if you've already made the switch) but what about the rest of the year?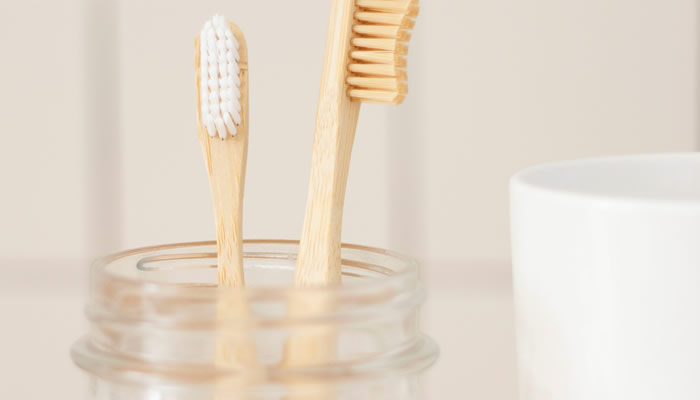 Going plastic free or reducing your plastic waste is something we hope becomes a lifelong habit. The key is to start small and simple and just make one easy swap at a time. And don't feel like you have to go for from zero to hero. Every little swap and change makes a difference so be kind to yourself and acknowledge the positive impact you're helping to create. Need some other ideas?
Our range of bamboo toothbrushes are the perfect plastic free accompaniments to our Georganics selection.
Shopping Plastic Free and Online is Easy at Wholesome Hub
To shop according to your preferences is super easy at Wholesome Hub. All you need to do is use our filters that you'll find on the left hand side of each page.
Whatever you're shopping for, from oral care to organic tea bags, whatever your values, from vegan to gluten free, you'll find it with us.
If you're looking for plastic free products, make sure you select 'zero waste' in 'filter by values.'
We also offset 100% of the carbon emissions we create with each order we send out. So you can enjoy all your plastic free goodies, without worrying about your impact!
---
Leave a comment