Natural Deodorants - Toxin Free, Aluminium Free & Plastic Free
Author: Sandy Abram Date Posted:26 October 2018
[@access_control@]
[@article_id@]
[@blog_author@]
[@blog_content@]
[@blog_id@]
[@blog_subheader@]
[@blog_subject@]
[@category_id@]
[@category_name@]
[@category_ref@]
[@category_subheader@]
[@ccat_id@]
[@compat_id@]
[@compat_list_id@]
[@compatcat_description@]
[@compatcat_description2@]
[@compatcat_fullname@]
[@compatcat_name@]
[@compatcat_ref@]
[@content@]
[@content_allow_reviews@]
[@content_author@]
[@content_compatibility_code@]
[@content_description1@]
[@content_description2@]
[@content_description3@]
[@content_external_ref1@]
[@content_external_ref2@]
[@content_external_ref3@]
[@content_external_src@]
[@content_fullpath@]
[@content_id@]
[@content_label1@]
[@content_label2@]
[@content_label3@]
[@content_level@]
[@content_module@]
[@content_name@]
[@content_ref@]
[@content_short_description1@]
[@content_short_description2@]
[@content_short_description3@]
[@content_type_code@]
[@content_type_id@]
[@content_type_name@]
[@content_wufoo_form@]
[@date_posted@]
[@date_updated@]
[@description@]
[@description2@]
[@external_ref@]
[@gp_restriction@]
[@id@]
[@name@]
[@page_content@]
[@page_editor@]
[@page_header@]
[@page_id@]
[@page_index@]
[@page_subheader@]
[@parent_ccat_id@]
[@parent_content_id@]
[@parent_id@]
[@rating@](CODE)
[@rating_decimal@](CODE)
[@rating_round_half@](CODE)
[@reviews@](CODE)
[@short_description@]
[@sortorder@]
[@subtitle@]
[@templatebody@]
[@templatefoot@]
[@templatehead@]
[@templatesearch@]
[@thumb@](CODE)
[@thumb_alt@](CODE)
[@thumb_alt1@](CODE)
[@thumb_content_type_id@]
[@timestamp@]
[@title@]
[@url@]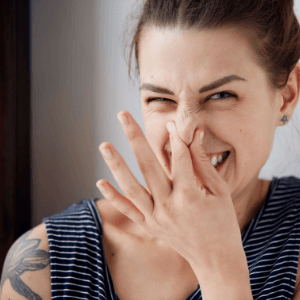 Using a natural deodorant doesn't mean you have to be stinky! You can use a toxin free, cruelty free, aluminum free and now plastic free deodorant and still be fresh all day. See what nasties are lurking in your deodorant and why choosing natural is best
Using a natural deodorant doesn't mean you have to be stinky! You can use a toxin free, cruelty free, aluminum free and now plastic free deodorant and still be fresh all day. Find out what nasties are lurking in your conventional deodorant and why choosing a natural deodorant is healthier for you, and kinder to our planet.
How many times have you picked up your usual deodorant, had a spray or a roll, and not even given it a second thought? Plenty of times, we're all busy right? Hundreds. Thousands. In our lifetime is may be Tens of Thousands. We all lead busy lives, so why would we use valuable headspace to think about something so seemingly trivial?
But the thing is, it's not actually that trivial.
DEODORANTS, OR RATHER, ANTIPERSPIRANTS IN THE MAIN, ARE FILLED WITH ARTIFICIAL, CHEMICAL NASTIES.
Antiperspirants stop you sweating. By their very nature, they work against the body's natural cooling and detoxing mechanism of releasing perspiration, as they work to block the sweat glands. On the other hand, a deodorant allows the skin to breathe and remove toxins like it's supposed to and will mask any body odour that's created by the skin bugs that love the warm and cosy conditions of our armpits.
Why Switch to a Natural Deodorant? The Benefits to Us
The everyday antiperspirants (and deodorants, not all deodorants are made from kind and natural ingredients) that we find in supermarkets and chemists contain parabens. Parabens are chemical preservatives that prolong the life of cosmetics and skin care products. They're linked with an increased risk of certain cancers.
In the UK, the Breast Cancer UK charity has taken this risk so seriously that they've called for parabens to be completely removed from all beauty products.
Antiperspirants also contain aluminium. When we apply our antiperspirant, the aluminium enters the skin, which is why these sprays and roll-ons are effective at stopping us from sweating. When aluminium and sweat collide, the aluminium acts as a gatekeeper, preventing the sweat from reaching the surface of the skin.
The bodily toxins that the body wants to get rid of through sweat (and the aluminium, that isn't supposed to be present in the body) therefore have nowhere to go but back inside to circulate.
As our armpits contain so many sweat glands, that we've evolved to get rid of waste products from the body, covering up this natural mechanism just doesn't sound right, does it?
THERE'S ALSO A LINK BETWEEN ALUMINUM AND BREAST CANCER AS ALUMINUM CAN MIMIC THE FEMALE HORMONES OESTROGEN WHICH PLAYS A ROLE IN THE DEVELOPMENT OF SOME BREAST CANCERS.
The problem is, the likes of big brands like Dove, Vaseline and Lynx (all made by huge conglomerate Unilever - more on them in a moment) won't tell us this stuff. They'll just tell us that to sweat isn't very nice, and that we should all be covering it up.
We'll admit, the smell of body odour isn't all roses but we think the alternative of using potentially harmful ingredients, is a lot worse than a bit of pong.
The Benefits of a Natural Deo for the Planet
It's not just us who benefit from using a natural deodorant. Antiperspirants often contain a chemical called triclosan, which is used as an antimicrobial agent.
TRICLOSAN FROM ANTIPERSPIRANTS, TOOTHPASTES AND HAND SOAPS ARE NOT ONLY HARMFUL TO US BUT THEY LEACH INTO WATER SUPPLIES AS THEY GET RINSED DOWN OUR SINKS AND SHOWERS.
When triclosan mixes with UV light from the sun, it can damage aquatic ecosystems. It can affect everything, from the water, to the algae right at the bottom of the food chain, up to bigger fish and even dolphins. It has the potential to interfere with fish hormones, and evidence suggests it's capable of changing the sex of fish. Who knows then, what it could do to us?
As for other nasties and toxins you'll be giving the flick to by going a la natural and tonin free deodorant, they include chemicals such as Triethanolamine (TEA) and Diethanolamine (DEA), Propylene Glycol, talc and artificial colors which can cause allergic reactions.
In regards to packaging and why going natural deodorant is better, aerosol cans are tricky to recycle due to all the bits inside that allow us to spray its contents. Then of course, generally they have a plastic cap. The same goes for roll-on deodorants, they're generally made from a mix of plastics and are impossible to break apart and separate for recycling.
Natural deodorants not only contain toxin-free, natural ingredients that don't impact on the environment. They can also be packaged in plastic-free, biodegradable or compostable materials.
Then there are the companies that make antiperspirants. As mentioned above, many of our sprays and roll-ons are made by Unilver. Unilever scores bottom of the Ethical Consumer Magazine league tables for ethics, support of GM ingredients and animal testing.
Do we really want to be supporting such a company, just to fill ourselves with synthetic chemicals that we don't need?
Natural, Planet Friendly Deodorants
At Wholesome Hub we have a great range of natural, toxin free and aluminium free deodorants for you to choose from. They're all made using organic ingredients and free from all the nasty chemicals that you don't want to be putting on your skin or under your arm pits. Our brands include Australian Biologika, Grants, Eco by Sonya Driver and the latest edition to our family Earth Conscious.
Earth Conscious deodorants are made using all organic natural ingredients that care for your skin and help prevent body odour. Plus, they are 100% plastic free coming in planet friendly cardboard packaging.
Here are some of the delicious ingredients Earth Conscious use:
Organic coconut oil - the main ingredient, coconut oil soothes and softens the skin and has natural antibacterial properties.
Organic shea butter - skin softening and soothing.
Jojoba wax - a natural oil with similar properties to the oil found in our skin.
Sunflower wax - rich in antioxidant vitamin E which helps prevent dry skin.
Sodium bicarbonate - naturally antibacterial and absorbant, sodium bicarbonate helps body odour.
Arrowroot powder - makes each deodorant easier to apply and is actually a food grade ingredient! It helps keep the skin dry, too.
Natural fragrance - whole essential oils provide delicate fragrances such as lavender, jasmine and rose, that won't irritate or feel overpowering.
At Wholesome Hub we now have the full range of Earth Conscious deodorants. Each one is natural, plastic-free and vegan friendly. Give them a try, you, and the planet, have much more to gain than simply smelling good!
---
Leave a comment