To Plastic Free July & Beyond. 20+ Swaps For Your Kitchen & Bathroom
Author: Sandy Abram Date Posted:27 June 2020
[@access_control@]
[@article_id@]
[@blog_author@]
[@blog_content@]
[@blog_id@]
[@blog_subheader@]
[@blog_subject@]
[@category_id@]
[@category_name@]
[@category_ref@]
[@category_subheader@]
[@ccat_id@]
[@compat_id@]
[@compat_list_id@]
[@compatcat_description@]
[@compatcat_description2@]
[@compatcat_fullname@]
[@compatcat_name@]
[@compatcat_ref@]
[@content@]
[@content_allow_reviews@]
[@content_author@]
[@content_compatibility_code@]
[@content_description1@]
[@content_description2@]
[@content_description3@]
[@content_external_ref1@]
[@content_external_ref2@]
[@content_external_ref3@]
[@content_external_src@]
[@content_fullpath@]
[@content_id@]
[@content_label1@]
[@content_label2@]
[@content_label3@]
[@content_level@]
[@content_module@]
[@content_name@]
[@content_ref@]
[@content_short_description1@]
[@content_short_description2@]
[@content_short_description3@]
[@content_type_code@]
[@content_type_id@]
[@content_type_name@]
[@content_wufoo_form@]
[@date_posted@]
[@date_updated@]
[@description@]
[@description2@]
[@external_ref@]
[@gp_restriction@]
[@id@]
[@name@]
[@page_content@]
[@page_editor@]
[@page_header@]
[@page_id@]
[@page_index@]
[@page_subheader@]
[@parent_ccat_id@]
[@parent_content_id@]
[@parent_id@]
[@rating@](CODE)
[@rating_decimal@](CODE)
[@rating_round_half@](CODE)
[@reviews@](CODE)
[@short_description@]
[@sortorder@]
[@subtitle@]
[@templatebody@]
[@templatefoot@]
[@templatehead@]
[@templatesearch@]
[@thumb@](CODE)
[@thumb_alt@](CODE)
[@thumb_alt1@](CODE)
[@thumb_content_type_id@]
[@timestamp@]
[@title@]
[@url@]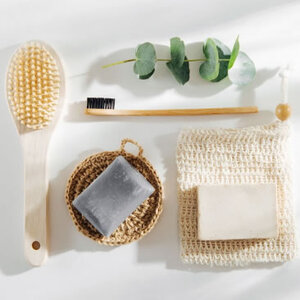 Plastic is out. Sustainable alternatives are in and there's no better time to "choose to refuse" single use plastic than Plastic Free July. Check out our 20+ easy plastic free swaps for your kitchen and bathroom and you'll be an eco hero in no time. Plastic is out. Sustainable alternatives are in and there's no better time to "choose to refuse" single use plastic than Plastic Free July. See our easy swaps for your kitchen and bathroom.
Plastic is out. Sustainable alternatives are in and there's no better time to "choose to refuse" single use plastic than Plastic Free July. See our easy swaps for your kitchen and bathroom.
Each year during Plastic Free July, millions of people around the world pledge to be more aware of their plastic use and take up the challenge to "choose to refuse".
The good news is that everyone can get involved! Whether you're a plastic free pro who's ready for a real challenge or you're just beginning on your plastic free journey, we've got lots of sustainable ideas and alternatives to make going plastic free a walk in the park and remember, it doesn't matter how big or small your actions are every little bit counts.
Let's do this!
DID YOU KNOW THAT OUR KITCHENS AND BATHROOMS ARE THE TWO AREAS OF OUR HOME WE USE THE MOST SINGLE-USE PLASTIC AND PACKAGING
Lucky for us, we have plenty of ideas and opportunities for you to do things differently so here's a list of my favourite plastic free swaps which will have you being an earth warrior and eco hero in no time.
Plastic Free Kitchen
# 1 Reusable Drink Bottle – An absolute must and one you can't leave home without. The hardest decision is which color and whether to go insulated or not
# 2 Reusable Shopping Bags – Plastic shopping bags are so last century. Bringing your own is easier now than ever. Throw one in the so you're never caught out.
# 3 Reusable Coffee Cups – Think KeepCup, think Joco, think coffee that doesn't cost the earth.
# 4 Reusable Straws – Stainless steel straws are so convenient and will turn your daily smoothie and juice into an uber eco-chic drink. Plus, the kids (and their friends) will love them.
# 5 Food Wraps – Say good-bye to plastic cling film. These reusable wraps are made from 100% organic cotton (don't choose otherwise), perfectly natural and available in beeswax and plant based.
# 6 Reusable Bulk Food Bags – Shopping in bulk saves money and packaging. Win. Win. There are lots of bulk food stores popping up around the place, so finding one near you shouldn't be too tricky.
# 7 Reusable Cutlery – Along with your wallet, lip balm and perfume always keep a handy reusable bamboo cutlery set in your handbag.
# 8 Reusable Produce Bags – Another essential when heading out to your favourite grocery store, organic store or farmer's market. Your apples will never be happier. You can choose from organic cotton, muslin or rPet. What's your fave?
# 9 Reusable Bread Bags – Grab your favourite sourdough and ditch the plastic bread bag. You can also store your bread in these bags in the freezer too.
# 10 Reusable Dish Cloths & Sponges – Say good-bye to stinky plastic sponges and hello to natural coconut fibre dish scourers and reusable dish cloths. They're friendly on our planet while being tough on your dirty dishes.
# 11 Dishwashing – Buying your dishwashing liquid in bulk and refilling your aluminium container cuts out one more plastic bottle.
# 12 Compostable Bin Liners – There is a better alternative to plastic rubbish bags and plastic bin liners. They're plant based, GMO free and 100% compostable. You can choose from BioBag or Onya.
# 13 Tea – Enjoy your daily cuppa of tea and herbal infusion without the plastic in your tea bags. Both our Hampstead Tea and Love Tea brands come in 100% plastic free tea bags (we wouldn't have it any other way).
# 14 Milk – Making your own nut milks not only tastes amazing, is so rewarding but you'll be stopping one more plastic bottle going potentially unrecycled and into landfill
Now that we've tackled the kitchen and probably diverted more plastic away from landfill and our oceans than we even realise, it's time to head over to the cleaning, beauty, pampering end of the house, our bathroom!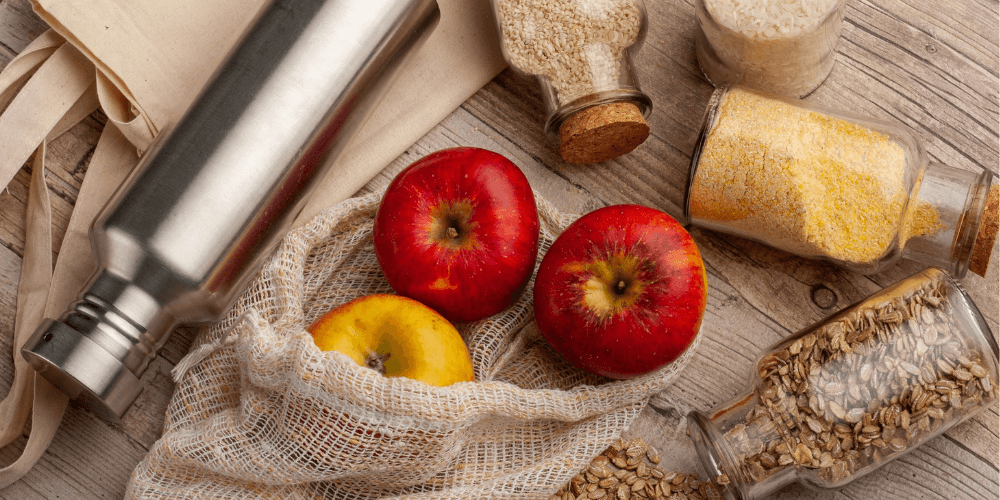 Plastic Free Bathroom
# 15 Body Soap Bars – Give liquid soap and body washes the flick and bring back the bar. 100% natural and palm oil free (think Urthly Organic and The Australian Natural Soap Company), you'll be squeaky clean and helping to keep our planet squeaky clean too.
# 16 Shampoo Bars & Conditioner Bars – Traditional shampoos and conditioners are on average 80% water (or more) and come in plastic which means we're creating a whole lot of emissions and waste carting mostly water around the country. Shampoo Bars and Conditioner Bars are ecofriendly, plastic free and ours are completly toxin free and palm oil free too.
# 17 Natural Deodorant – It is possible to smell like roses, avoid the pongy arm pits and avoid plastic at the same time too.
# 18 Bamboo Toothbrushes – Bamboo toothbrushes are pretty common these days but if you haven't tried one yet, now's the perfect time.
# 19 Plastic Free Toothpaste – You don't' have to squeeze your toothpaste out of a plastic tube any longer. Georganics zero waste toothpaste and tooth powders are here to make sure your teeth are sparkly clean and healthy and our planet is kept clean too.
# 20 Plastic Free Mouthwash – Do you like to freshen up during the day with a mouthwash? Give these ecofriendly mouthwash tablets a go and you'll have plenty to smile about. Plus they fit easily in your handbag, car or drawer at work.
# 21 Plastic Free Dental Floss - Daily flossing is something we're all told we need to do to keep our teeth and gums healthy. To keep your Dentist happy, you happy and our planet happy, Georganic plastic free floss in a refillable glass container is the perfect answer.
# 22 Cotton Buds
– Not a single bit of plastic in sight. Swapping to a plastic free cotton bud is easy and something everyone can do. At Wholesome Hub we have 100% certified organic and bamboo options.
# 23 Plastic Free Periods – Our Natracare pads and tampons are all 100% organic and plastic free. This means they're healthier for you, healthier for our planet and means we can have a bloody good period!
So, I've shared my list of what I think are pretty easy plastic free swaps. Most of these don't cost the earth and most will last you for a long time to come.
I'm sure there are loads of other ideas and I'd love to hear them so please share your favourite plastic free tips. And remember, we don't need a handful of people doing plastic free perfectly. We need millions of people just like you, doing it imperfectly.
Here's to a fantastic Plastic Free July and beyond!
---
Leave a comment