What's so special about Olive Leaf?
Author: Sandy Abram Date Posted:11 August 2016
[@access_control@]
[@article_id@]
[@blog_author@]
[@blog_content@]
[@blog_id@]
[@blog_subheader@]
[@blog_subject@]
[@category_id@]
[@category_name@]
[@category_ref@]
[@category_subheader@]
[@ccat_id@]
[@compat_id@]
[@compat_list_id@]
[@compatcat_description@]
[@compatcat_description2@]
[@compatcat_fullname@]
[@compatcat_name@]
[@compatcat_ref@]
[@content@]
[@content_allow_reviews@]
[@content_author@]
[@content_compatibility_code@]
[@content_description1@]
[@content_description2@]
[@content_description3@]
[@content_external_ref1@]
[@content_external_ref2@]
[@content_external_ref3@]
[@content_external_src@]
[@content_fullpath@]
[@content_id@]
[@content_label1@]
[@content_label2@]
[@content_label3@]
[@content_level@]
[@content_module@]
[@content_name@]
[@content_ref@]
[@content_short_description1@]
[@content_short_description2@]
[@content_short_description3@]
[@content_type_code@]
[@content_type_id@]
[@content_type_name@]
[@content_wufoo_form@]
[@date_posted@]
[@date_updated@]
[@description@]
[@description2@]
[@external_ref@]
[@gp_restriction@]
[@id@]
[@name@]
[@page_content@]
[@page_editor@]
[@page_header@]
[@page_id@]
[@page_index@]
[@page_subheader@]
[@parent_ccat_id@]
[@parent_content_id@]
[@parent_id@]
[@rating@](CODE)
[@rating_decimal@](CODE)
[@rating_round_half@](CODE)
[@reviews@](CODE)
[@short_description@]
[@sortorder@]
[@subtitle@]
[@templatebody@]
[@templatefoot@]
[@templatehead@]
[@templatesearch@]
[@thumb@](CODE)
[@thumb_alt@](CODE)
[@thumb_alt1@](CODE)
[@thumb_content_type_id@]
[@timestamp@]
[@title@]
[@url@]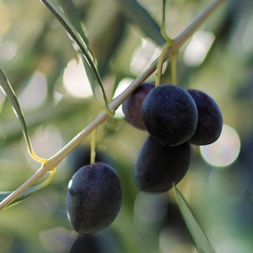 Something magical has been happening in the Mediterranean for centuries now and it's not just the sun, good food and beautiful beaches. While we already know how good Olive Oil is for us, its seems that Olive Leaf & Olive Leaf Extract may be even better
What's so special about Olive Leaf?
It may seem odd to some people but the Mediterranean diet, which Mediterranean's have been happily enjoying amongst the mountains, fresh air, beaches and sun for centuries now, has only become popular and a modern marvel over the last 25 years.
Goodies like olives, marinated vegetables, sun-dried tomatoes, pita bread and Greek yogurt (and apologies to those of you that haven't had lunch), which were once only found in select Mediterranean grocers, now grace the shelves of every supermarket along with the great wall of, the great Mediterranean hero of them all…olive oil.
Olive oil is a megalos (big) part of the Mediterranean diet, containing a unique compound called oleuropein. While oleuropein doesn't taste that great, giving olive oil its sometimes bitter, pungent taste, it is the key ingredient responsible for most of olive oil's antioxidant, anti-inflammatory and disease fighting super powers. Enter now the simple olive leaf from the humble olive tree.
Do Olive Leaves and Olive Leaf Extract have oleuropein too?
Is Olive Leaf Extract and oleuropein a new thing?
What are the benefits of Olive Leaf Extract?
How can Olive Leaf and Olive Leaf Extract help you?
When should I take Olive Leaf?
Do Olive Leaves and Olive Leaf Extract have oleuropein too?
Just like olive oil, olive leaves have been found to contain high levels of oleuropein. This means we can enjoy the health benefits from the olive leaf and olive leaf extracts without having to consume bucket loads of olive oil.
Is Olive Leaf Extract and oleuropein a new thing?
No way, Jose or in this case, no way, Nikos! Studies have shown that olive leaves were used medicinally back in Ancient Egypt and in later cultures as a cure for severe fevers and malaria however it was in the 1960's that things went off for the Olive Leaf.
In 1962, an Italian researcher reported that oleuropein lowered blood pressure in animals which triggered a flurry of scientists and their microscopes towards the olive leaf, and for good reason as you'll soon find out.
What are the benefits of Olive Leaf Extract?
There are lots of reports about what Olive Leaf and Olive Leaf Extract is good for. Hypertension (high blood pressure), diabetes, cancer, stroke, cholesterol levels, arthritis and even Alzheimer's are just a few.
Whilst I can't validate these reports, I can see that olive leaf is being studied clinically for its antibiotic, anti-inflammatory, antibacterial, antifungal properties as well as its ability to support our immune system.
I can also see that Australia's Southern Cross University has shown that olive leaf has the highest "free radical scavenging activity of 55 medicinal herbs" researched. Sounds good but what does this mean?
It means that if free radicals are the baddies which can damage our healthy cells, causing us to age prematurely and suffer from heart problems and degenerative diseases, Olive Leaf kicks butt and with its high antioxidants levels is the good guy, the one in the cape flying around our body munching all the free radicals up and giving the villain a good biff and wam in the face!
Here is a little chart showing the antioxidant levels of Olive Leaf compared to Green Tea and Spirulina...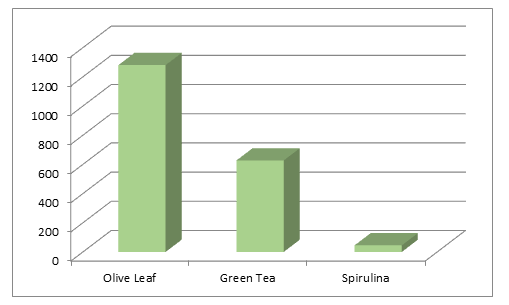 Source: Southern Cross University, Southern Cross Plant Science, 2007
How can Olive Leaf and Olive Leaf Extract help you?
To break it down a little, Olive Leaf can help us in three ways; it can improve our cardiovascular system, support our immune system and it can improve our wellbeing with its antioxidant powers. Here we go…
Good for your heart: Olive Leaf has been found to reduce blood pressure, reduce 'bad' cholesterol levels and help maintain normal heart function
Good for your immune system: Olive Leafs can be used as a preventative and in the treatment of colds and flus, tonsillitis and recurrent infections
Good for your overall wellbeing: If free radicals are the bad guys causing our body to age quicker and suffer from degenerative diseases, antioxidants are the good guys and the superheros keeping us and our cells young and healthy
When should I take Olive Leaf?
Good question! Like most natural remedies, this really depends on each person.
Do you take it as a preventative measure, do you take it when an ailment strikes and you're all wrapped up in bed or do you just take in under the recommendation and supervision of a health practitioner like your Naturopath?
Personally, I always have a bottle of Olive Leaf Extract in the cupboard for both myself and my little ones. At the first signs of any bugs, I find a few doses goes a long way and that often, by the next morning, everyone is as good as gold again.
Olive Leaf Tea however is a new thing for me so I can't wait to give this a try. We have just added three new varieties, Olive Leaf Tea Bags and Loose Leaf, Olive Leaf Mediterranean and Olive Leaf Lemongrass to our range which I may be passing on to my dad too.
I also believe that with good rest, a healthy organic diet and some natural remedies, when you do get knocked down a little, bouncing back can be easier and after all if food can be thy medicine, it sounds to me like Olive Leaf is a great place to start.
If you've drinking Olive Leaf tea or taking Olive Leaf extract and it has helped, I'd love to hear about it.
---
Leave a comment