10 Surprising Ways You Can Use Coconut Oil
Author: Sandy Abram Date Posted:15 June 2016
[@access_control@]
[@article_id@]
[@blog_author@]
[@blog_content@]
[@blog_id@]
[@blog_subheader@]
[@blog_subject@]
[@category_id@]
[@category_name@]
[@category_ref@]
[@category_subheader@]
[@ccat_id@]
[@compat_id@]
[@compat_list_id@]
[@compatcat_description@]
[@compatcat_description2@]
[@compatcat_fullname@]
[@compatcat_name@]
[@compatcat_ref@]
[@content@]
[@content_allow_reviews@]
[@content_author@]
[@content_compatibility_code@]
[@content_description1@]
[@content_description2@]
[@content_description3@]
[@content_external_ref1@]
[@content_external_ref2@]
[@content_external_ref3@]
[@content_external_src@]
[@content_fullpath@]
[@content_id@]
[@content_label1@]
[@content_label2@]
[@content_label3@]
[@content_level@]
[@content_module@]
[@content_name@]
[@content_ref@]
[@content_short_description1@]
[@content_short_description2@]
[@content_short_description3@]
[@content_type_code@]
[@content_type_id@]
[@content_type_name@]
[@content_wufoo_form@]
[@date_posted@]
[@date_updated@]
[@description@]
[@description2@]
[@external_ref@]
[@gp_restriction@]
[@id@]
[@name@]
[@page_content@]
[@page_editor@]
[@page_header@]
[@page_id@]
[@page_index@]
[@page_subheader@]
[@parent_ccat_id@]
[@parent_content_id@]
[@parent_id@]
[@rating@](CODE)
[@rating_decimal@](CODE)
[@rating_round_half@](CODE)
[@reviews@](CODE)
[@short_description@]
[@sortorder@]
[@subtitle@]
[@templatebody@]
[@templatefoot@]
[@templatehead@]
[@templatesearch@]
[@thumb@](CODE)
[@thumb_alt@](CODE)
[@thumb_alt1@](CODE)
[@thumb_content_type_id@]
[@timestamp@]
[@title@]
[@url@]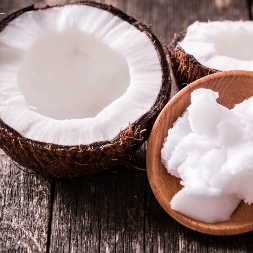 Growing up in a Mediterranean household, making the switch from Olive Oil to Coconut Oil hasn't been easy. But the kitchen isn't the only place you can enjoy the benefits of Coconut Oil. Here are some surprising uses which are just as good for you.
Growing up in a Mediterranean household, our Olive Oil didn't come home in pretty little glass bottles. It came home in BIG TINS. Mum would then carefully pour that precious golden liquid into smaller, more user friendly bottles, and pretty much use in our every meal!
I know Coconut Oil is so now (and vegetable oil is so not) but with Olive Oil such a big part of my history and fabric you can imagine some of the conversations going on in my head…
"What do you mean I should use Coconut Oil instead of butter on my toast? Are you crazy?"
"I can't fry my fish in Coconut Oil. The rule is olive oil, lemon and garlic must not be separated."
"I know it's good for me! Easier to burn off, harder to store as fat, eliminates disease, lowers inflammation, blah, blah, blah."
All jokes aside, I do love the benefits of Coconut Oil and have tried to sloooo-wly use more Coconut Oil in my cooking (thinking this may somehow sloooo-wly convert my taste buds) but to be honest I've had more success using Coconut Oil in the bathroom than the kitchen.

Here are 10 surprising ways you can use coconut oil.
1. As a moisturiser
Coconut Oil spreads easily, doesn't leave you feeling greasy and the smell makes me feel like I'm on a tropical island holiday somewhere (rather than it being Monday morning, me standing in bathroom while kids not getting ready for school). Use all over your body, not forgetting your hands, elbows and any cracked heels.
2. Stop bug bite itches
The more you scratch the more it itches! Next time you (or someone in the family) has an annoying bug bite, slather on some coconut oil. The coconut oil forms a protective layer which will allow the bite to heal and the itch to disappear. Nice.
3. As a lip balm
Rub on your lips for a natural lip balm which will leave your lips feeling super soft and you tasting delicious!
4. Soothe a cold or flu
Just in time for the cooler months, swap your hot tea, lemon and honey recipe for hot tea and a tablespoon of coconut oil recipe. It can also help soothe your sore throat too.
5. Boost your smoothies
Add a couple of tablespoons of Coconut Oil to your favourite smoothie for some extra energy and goodness.
For some coco-smoothie-inspo, check out this recipe from the good people at Food Matters which not only sounds delish but will make you look and feel younger too!
http://foodmatters.tv/content/the-anti-aging-coconut-turmeric-smoothie
6. Homemade chips
Maybe not so surprising but definitely worth a try, next time you're making homemade chips, instead of deep frying in olive oil / vegetable oil, use a good Coconut Oil instead
7. Popcorn topping
For a yummy popcorn topping, melt some coconut oil and drizzle over your popcorn with a touch of salt.
8. Soothe minor cuts and scratches
With Coconut Oil's antibacterial and antifungal properties, you can come to the rescue and help soothe minor cuts and scrapes by dabbing a little to the area.
9. DIY Toothpaste
Add some coconut oil to baking soda and voilà – your own homemade toothpaste which has whitening and antibacterial benefits going on, no chemicals in sight and is super cheap. For a little extra flavour and some therapeutic benefits, add a few drops of peppermint oil for that minty freshness!
10. On toast
There, I said it! Replace butter and spread some coconut oil on your toast instead. It actually it's pretty good with my smashed avo.

What type of Coconut Oil is best?
I know there are literally dozens of coconut oil brands on the market today, coming in various sized jars and tubs, so which one do you choose?
At Organic Door, we only offer the highest quality products we can and our Biona Organic Virgin Coconut Oil is no exception. It is raw, pure, ethically sourced and filtered with no bleaching or pasteurisation which means the wonderful flavour and nutritional benefits of this virgin oil remain intact.
For those of you, who may want the benefits of Coconut Oil without the coconut taste, why not try our Biona Organic Coconut Oil Cuisine. This coconut oil has been lightly steamed to remove the coconut flavour and aroma and is perfect for baking, frying and roasting.
Have you got some favourite uses for coconut oil? What did I miss? We'd love to hear your ideas below!
---
Leave a comment