Fish4Ever Remains Australia's most Sustainable Tuna!
Author: Sandy Abram Date Posted:1 January 2020
[@access_control@]
[@article_id@]
[@blog_author@]
[@blog_content@]
[@blog_id@]
[@blog_subheader@]
[@blog_subject@]
[@category_id@]
[@category_name@]
[@category_ref@]
[@category_subheader@]
[@ccat_id@]
[@compat_id@]
[@compat_list_id@]
[@compatcat_description@]
[@compatcat_description2@]
[@compatcat_fullname@]
[@compatcat_name@]
[@compatcat_ref@]
[@content@]
[@content_allow_reviews@]
[@content_author@]
[@content_compatibility_code@]
[@content_description1@]
[@content_description2@]
[@content_description3@]
[@content_external_ref1@]
[@content_external_ref2@]
[@content_external_ref3@]
[@content_external_src@]
[@content_fullpath@]
[@content_id@]
[@content_label1@]
[@content_label2@]
[@content_label3@]
[@content_level@]
[@content_module@]
[@content_name@]
[@content_ref@]
[@content_short_description1@]
[@content_short_description2@]
[@content_short_description3@]
[@content_type_code@]
[@content_type_id@]
[@content_type_name@]
[@content_wufoo_form@]
[@date_posted@]
[@date_updated@]
[@description@]
[@description2@]
[@external_ref@]
[@gp_restriction@]
[@id@]
[@name@]
[@page_content@]
[@page_editor@]
[@page_header@]
[@page_id@]
[@page_index@]
[@page_subheader@]
[@parent_ccat_id@]
[@parent_content_id@]
[@parent_id@]
[@rating@](CODE)
[@rating_decimal@](CODE)
[@rating_round_half@](CODE)
[@reviews@](CODE)
[@short_description@]
[@sortorder@]
[@subtitle@]
[@templatebody@]
[@templatefoot@]
[@templatehead@]
[@templatesearch@]
[@thumb@](CODE)
[@thumb_alt@](CODE)
[@thumb_alt1@](CODE)
[@thumb_content_type_id@]
[@timestamp@]
[@title@]
[@url@]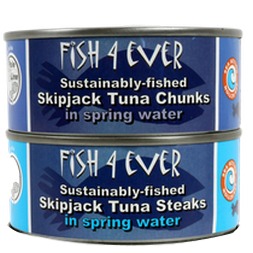 We're so excited as our Fish4Ever Skipjack Tuna has been rated Australia's Most Sustainable Tuna in Greenpeace's Canned Tuna Guide for the fifth year running! We're the best example of fair and environmentally sound sourcing of tuna in Australia.
We're so excited as our Fish4Ever Skipjack Tuna remains rated as Australia's Most Sustainable Tuna and has topped the Greenpeace's Canned Tuna Guide every year since inception, that's over 6 yrs! With Fish4Ever you can choose the best example of fair and environmentally sound sourcing of tuna available in Australia.
The Greenpeace Canned Tuna guide assesses brands on a range of factors such as fishing methods, labelling and equitable trade.
The waters have become muddier over the last few years as trusted organisations like MSC lower standards of their certification to accomodate the big guys. Being that one of the founding members of MSC was Unilever you can imagine over the years what would happen. You think your choosing ethical and sustainable when you see the MSC logo but are you really?

Fish4Ever is Tuna you can trust
With Fish4Ever, you're getting a canned (now in glass) tuna that's delicious and a tuna you can trust. And whilst Fish4Ever is busy campaigning for better managed seas we can enjoy the finest canned fish in the world!
This accolade came at a critical time as more people are asking questions about where their tuna comes from and how it is being processed and under what conditions are the people in the canneries subjected to.

What's so great about Fish4Ever?
Since the very beginning, sustainable fishing has always been a part of Fish4Ever's fabric and what we believe in and strive for. This award really cements our position as Australia's best choice for canned tuna and our long term commitment to sustainable fishing practices and ethical trade.
Fish4Ever is acknowledged as the pioneer of sustainable fishing in Australia and has set the benchmark for sustainable fishing practices. They demonstrate how sustainable fishing goes beyond how your fish is caught. At Fish4Ever sustainable fishing is holistic, authentic, and transformative and is about the sea, land and people too.

Sustainable, ethical AND organic too!
Fish4Ever's Skipjack Tuna is pole & line caught in the pristine waters of the Azores Islands in the North Atlantic Ocean. This Portuguese archipelago is one of the few unspoilt paradises in the world. Using small community boats and processed locally and at the source, Fish4Ever work closely with the local fishermen and workers and are world leaders in fair and equitable trade. Marinated in delicious organic oils and in BPA Free (NI) cans and now Fish4Ever Skipjack Tuna in Glass Jars, it remains the healthiest choice for you, the producers and the planet.
So happy Fish4Ever is recognised for leading the way and at the top of the list. We know they will never lower our standards - we hope you enjoy!
Sandy
---
Leave a comment