Stay Safe in the Sun with Natural, Organic Sunscreens
Author: Sandy Abram Date Posted:21 November 2017
[@access_control@]
[@article_id@]
[@blog_author@]
[@blog_content@]
[@blog_id@]
[@blog_subheader@]
[@blog_subject@]
[@category_id@]
[@category_name@]
[@category_ref@]
[@category_subheader@]
[@ccat_id@]
[@compat_id@]
[@compat_list_id@]
[@compatcat_description@]
[@compatcat_description2@]
[@compatcat_fullname@]
[@compatcat_name@]
[@compatcat_ref@]
[@content@]
[@content_allow_reviews@]
[@content_author@]
[@content_compatibility_code@]
[@content_description1@]
[@content_description2@]
[@content_description3@]
[@content_external_ref1@]
[@content_external_ref2@]
[@content_external_ref3@]
[@content_external_src@]
[@content_fullpath@]
[@content_id@]
[@content_label1@]
[@content_label2@]
[@content_label3@]
[@content_level@]
[@content_module@]
[@content_name@]
[@content_ref@]
[@content_short_description1@]
[@content_short_description2@]
[@content_short_description3@]
[@content_type_code@]
[@content_type_id@]
[@content_type_name@]
[@content_wufoo_form@]
[@date_posted@]
[@date_updated@]
[@description@]
[@description2@]
[@external_ref@]
[@gp_restriction@]
[@id@]
[@name@]
[@page_content@]
[@page_editor@]
[@page_header@]
[@page_id@]
[@page_index@]
[@page_subheader@]
[@parent_ccat_id@]
[@parent_content_id@]
[@parent_id@]
[@rating@](CODE)
[@rating_decimal@](CODE)
[@rating_round_half@](CODE)
[@reviews@](CODE)
[@short_description@]
[@sortorder@]
[@subtitle@]
[@templatebody@]
[@templatefoot@]
[@templatehead@]
[@templatesearch@]
[@thumb@](CODE)
[@thumb_alt@](CODE)
[@thumb_alt1@](CODE)
[@thumb_content_type_id@]
[@timestamp@]
[@title@]
[@url@]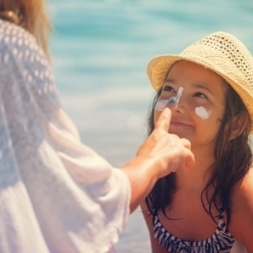 In Australia's sunny climate, protecting our skin and the precious skin of our babies and kids is crucial but with so many options which sunscreen do we pick? Natural Sunscreens? Chemical Sunscreens? What's the difference? And what are the ingredients?
Slip, Slop, Slap. We all know the drill. So, whilst you get the Slip and Slap part sorted, we've got you, ahem, covered, with the Slap bit.
We've been hearing the same message for decades now. Sun protection is crucial, especially when the sun is at its strongest between 11am and 2pm, and during the summer months. Sunscreen-wise, this means using a high factor 30+ sunscreen and reapplying it throughout the day – especially on those days you find yourself enjoying the gorgeous Aussie beaches and outdoors.
The Problem with Chemical Sunscreens
Sunscreens are lotions that we apply to our exposed skin to filter out the harmful UVA and UVB rays in sunlight. UVA rays contribute to skin ageing, and UVB rays cause the burning and sun damage that you may be familiar with or have bad memories of.
Most sunscreens contain a mix of chemical filters and barriers, with names such as oxybenzone, avobenzone and octinoxate. These chemicals have been linked with skin allergies and irritations, which could put you off using them, putting you at risk of sun damage.
Other studies have demonstrated their ability to mimic our natural hormones, potentially disrupting them, the consequences of which are not yet fully understood. Not only that, a 2015 Danish study found that 16 of the 19 chemical UV filters they looked at lacked enough evidence to ensure their safety in humans.
So if some of these things concern you – especially when it comes to your baby and children, then we have the answer… Natural Organic sunscreens!
Natural Sunscreens or Mineral Sunscreens
Natural Sunscreens or Mineral sunscreens don't contain the unpronounceable ingredients that chemical sunscreens do. Instead, they're made from naturally occurring zinc oxide and/or titanium oxide. They also often include organic ingredients that add additional moisture and nourishment to your skin which is great. These mineral ingredients in natural sunscreens act as physical blockers to the sun, rather than chemical blockers that absorb UV rays as they reach the skin and release them as heat.
If you've ever seen cricketers with thick, white stripes across their noses and on their lips, then this is zinc oxide. Obviously, the rest of us don't have to apply it quite so thickly, as we're not likely to be spending hours on a pitch without the ability to reapply our sunscreen!
The mineral sunscreens that we use contain much smaller particles of zinc or titanium oxides, meaning that they're absorbed more easily and don't sit on the skin. They also contain lots of other skin nourishing ingredients such as vitamin E, grape seed oil and green tea extract.
In Australia, all natural sunscreens must undergo the same rigorous testing and approval by the TGA (Therapeutics Goods Administration) that chemical sunscreens go through. This means they are just as effective against sunburn, sun damage and premature aging as all the other sunscreens you can find on the market - just without the possible nasties.
Natural Sunscreens for Babies and Kids
The skin of our babies and precious little ones needs to be kept especially protected. We stock natural organic sunscreens that are kind and nourishing to their beautifully delicate skin at the same time as protecting them from the sun.
Our natural sunscreens contain organic ingredients and are free from potentially harmful chemicals, parabens and GMO ingredients. The ones I've tried and love include our Little Innoscents Sun Lotion SPF 30+, UV Natural Baby Sunscreen SPF 30+ and Wotnot Family Sunscreen SPF 30+. Of course, staying in the shade with your little ones is ideal, but who can resist the joy of building sand castle and watching the waves gently crash them away.
The Best Chemical Free Sunscreens
At Wholesome Hub we stock a great range of Australian made natural sunscreens perfect for the whole family. They are all free from chemical nasties and non-natural preservatives and are also suitable for vegetarians and vegans since they're also Cruelty Free.
Our favourite brands include Soleo Organics, Wotnot and UV Natural. Some of these brands have super convenient handbag sizes available so you can always have some natural sunscreen on you or in the car.
Most of us love a suntan. We feel healthier when we're sun kissed, but sun kissed should be our aim. Not sun burnt, or sun damaged. Protect your skin from the sun, and look after its health at the same time by using a natural and organic, mineral based sunscreen.
---
Leave a comment