Why Can't Oats be Labelled Gluten Free in Australia?
Author: Sandy Abram Date Posted:17 July 2017
[@access_control@]
[@article_id@]
[@blog_author@]
[@blog_content@]
[@blog_id@]
[@blog_subheader@]
[@blog_subject@]
[@category_id@]
[@category_name@]
[@category_ref@]
[@category_subheader@]
[@ccat_id@]
[@compat_id@]
[@compat_list_id@]
[@compatcat_description@]
[@compatcat_description2@]
[@compatcat_fullname@]
[@compatcat_name@]
[@compatcat_ref@]
[@content@]
[@content_allow_reviews@]
[@content_author@]
[@content_compatibility_code@]
[@content_description1@]
[@content_description2@]
[@content_description3@]
[@content_external_ref1@]
[@content_external_ref2@]
[@content_external_ref3@]
[@content_external_src@]
[@content_fullpath@]
[@content_id@]
[@content_label1@]
[@content_label2@]
[@content_label3@]
[@content_level@]
[@content_module@]
[@content_name@]
[@content_ref@]
[@content_short_description1@]
[@content_short_description2@]
[@content_short_description3@]
[@content_type_code@]
[@content_type_id@]
[@content_type_name@]
[@content_wufoo_form@]
[@date_posted@]
[@date_updated@]
[@description@]
[@description2@]
[@external_ref@]
[@gp_restriction@]
[@id@]
[@name@]
[@page_content@]
[@page_editor@]
[@page_header@]
[@page_id@]
[@page_index@]
[@page_subheader@]
[@parent_ccat_id@]
[@parent_content_id@]
[@parent_id@]
[@rating@](CODE)
[@rating_decimal@](CODE)
[@rating_round_half@](CODE)
[@reviews@](CODE)
[@short_description@]
[@sortorder@]
[@subtitle@]
[@templatebody@]
[@templatefoot@]
[@templatehead@]
[@templatesearch@]
[@thumb@](CODE)
[@thumb_alt@](CODE)
[@thumb_alt1@](CODE)
[@thumb_content_type_id@]
[@timestamp@]
[@title@]
[@url@]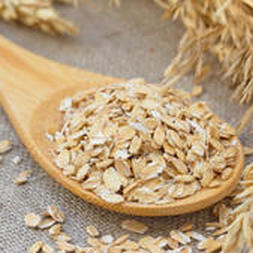 If we are able to offer oats that guarantee no contamination by wheat, rye or barley then why can't we call them gluten free in Australia? This question keeps popping up and I feel that now I can finally get to the bottom of it!
The question about oats and whether they are Gluten Free and can be labelled as Gluten Free in Australia is one that seems to keep popping up lot. And understandbly so. Coeliac Disease is a very serious condition and the symptoms of abdominal pain, diarrhoea and nausea are not to be taken lightly. For all those of you that are interested and may need a Gluten Free diet, now we can get to the oaty bottom of it all!
What does a Gluten Free label mean?
For a food to be called Gluten Free in Australia, Food Standards Australian New Zealand (FSANZ) states that there is to be no detectable gluten in the food (Standard 1.2.8 Clause 16). OK, that makes sense but it's not that easy.
Contamination Issues With Oats
You may already know that oats don't actually contain gluten but rather they contain a protein called avenin and are therefore naturally gluten free. However, there is a concern that during the growing and processing of the oats, the oats may be contaminated by wheat, rye or barley and therefore they may contain some detectable gluten.
For a couple of years now we have been promoting our certified organic Amisa Pure Porridge Oats and Rude Health Sprouted Oats. These oats have been grown without the risk of contamination and have not been processed on the same machinery as wheat, rye or barley. They are celebrated all over the UK and Europe as being gluten free and can offer people with Coeliac Disease a super nutritious food.
In case you didn't know, in the US, UK and Europe oats are labelled gluten free and are safe for Coeliacs to consume if they contain less than 20 milligrams of gluten per kilogram or 20ppm*. Our last individual batch test showed our Amisa Oats have less than 5 milligrams of gluten per kilogram*. It is possible that the oats have 0 milligrams of gluten but the machine doesn't test to that level.
Introducing Low Gluten…
As you've now realised, the gluten free label is not available to use on our Amisa Pure Porridge Oats or our Rude Health Sprouted Oats. We now have to legally call them Low Gluten. Interestingly, foods in the UK and US that have less than 20ppm are classified as gluten free whilst foods between 20 – 100ppm are referred to as low gluten… How we wish for an international standard!
Our Sticky Label Dramas…
In order to comply with FSANZ, we have to relabel all our Amisa Organic Oats and Rude Health Sprouted Oats.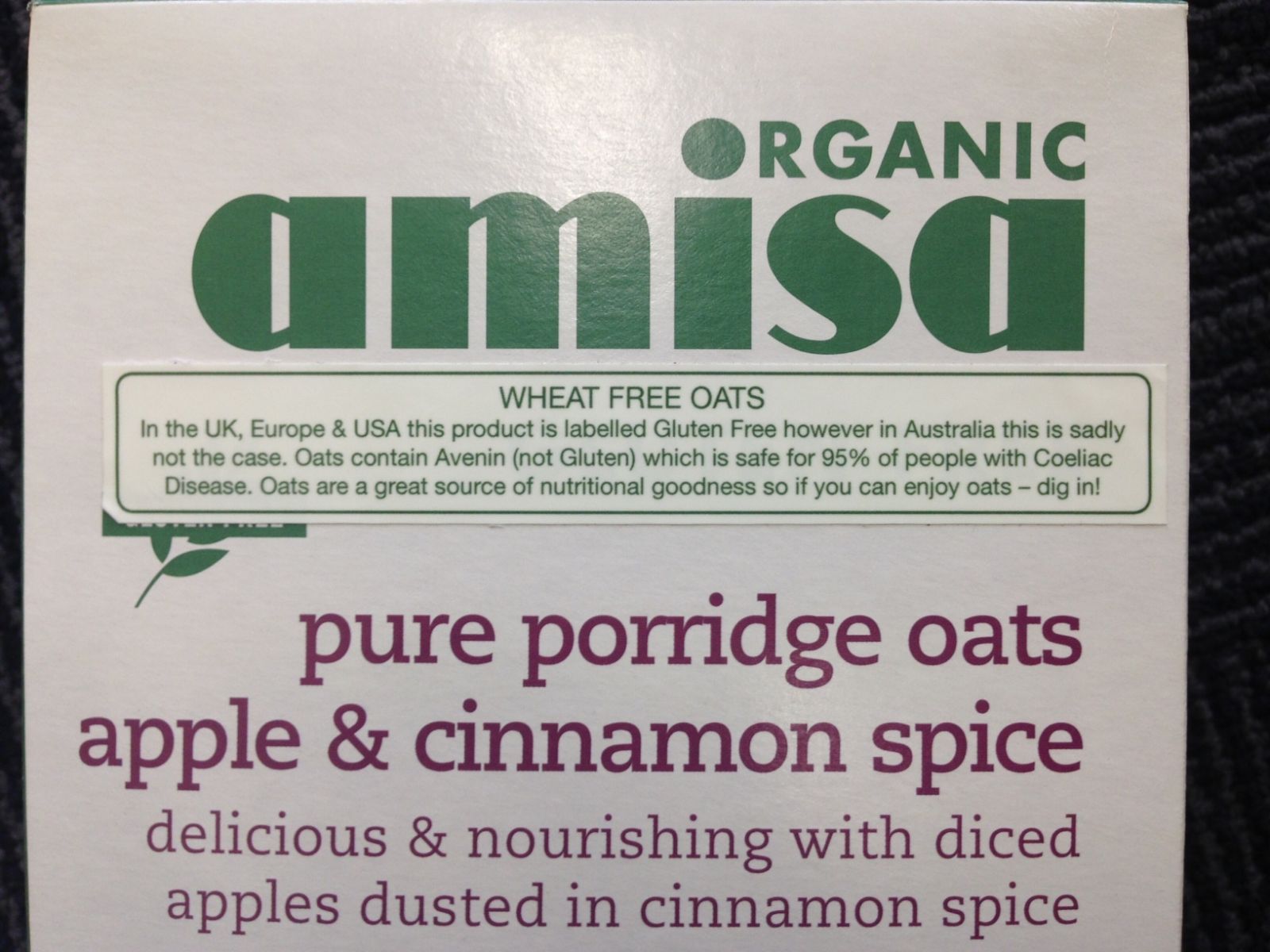 Our label: Low Gluten Oats
In the UK, Europe & USA this product is labelled Gluten Free however in Australia this is sadly not the case. Oats contain Avenin (not Gluten) which is safe for 95% of people with Coeliac Disease. Oats are a great source of nutritional goodness so if you can enjoy oats – dig in!

What's happening now in Australia?
Right now, the Australian Food and Grocery Council (the AFGC) has asked FSANZ that Australian food with up to 20 milligrams per kilogram of gluten, be labelled gluten free, bringing us in line with many international food standards.

Until then we will continue to call our uncontaminated and organic Amisa Pure Porridge Oats and Rude Health Sprouted Oats Low Gluten and hope that we can provide people with Coeliac Disease and those on a gluten-free diet a nutritious and delicious food.
Looking for Gluten Free & Organic Foods Online
At Wholesome Hub all our foods are 100% certified organic so you can be sure that your food has been grown and produced without any harmful chemicals, additives, preservatives and flavours. It also means your food is 100% GMO Free.
If you're after Gluten Free foods as well, we can certainly help with that. We have a fantastic range of foods and leading brands which are Gluten Free and which you can find by shopping by your values or filtering when doing your search.
Wholesome Hub ships Australia wide to your doorstep and if you order over $99.00 we'll deliver free. We'll also offset the carbon emissions generated from shipping your order to you, through our wonderful partnership with Greenfleet.
Are you a Coeliac? Are able you able to eat oats or not? And do you look for uncontaminated wheat free oats? Let us know as we'd love to hear from you.
*According to the University of Chicago Celiac Disease Center, the most sensitive coeliacs have their disease activated with 10mg of gluten in a day's diet. At 100mg per day, all celiacs are activated. For perspective, a gluten-free food that has less than 20ppm (20mg per kilogram) of gluten would require you to eat 2 pounds (907g) of it in one day to reach a significant amount of gluten in your system to trigger the disease.
---
Comments (2)
3ppm

27 March 2015

Hi, Thanks for your question Lou. In Australia the current testing can detect 3ppm of gluten, so you're right it will have an enormous effect on gluten-free offerings in Australia if it's zero. We're not quite sure for how long anything will be labelled gluten free! Sandy
---
What does no detectable mean?

27 March 2015

Wouldn't that be zero? How is that going to effect producers if gluten free is zero? Isn't that impossible due to possible contamination?
---
Leave a comment